Vacation Spot In France
What is my favorite Vacation Spot In France?
What has beach and history, romance and cuisine all in one place?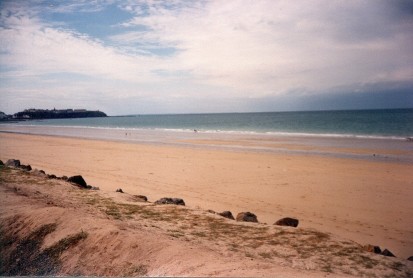 St. Malo, France
St-Malo is the most visited place in Brittany, in the north of France. Why? It has a superb old Citadel and a dignified city that are within huge walls that used to protect the city. St. Malo brings you a busy, lively and very characterful town, packed with hotels, restaurants, bars and shops. We had a wonderful time during our vacation!
The presence of vast, clean beaches right on the city's doorstep is incredible. Having to spend a night here is a positive pleasure!
In the photo of the beach, I was up early inhaling the ocean air. When I looked down the beach I could hear hooves. It was a horse and chariot training along the shore! I was in awe. The character and the scene was unbelievable. By the time I ran to grab my camera, all that was left was the beautiful beach. Then while I savored the moment two runners came towards me. It was so neat being apart of the intimate French lifestyle.
There's more! I can't wait to tell you about it!
Return From Your Vacation Spot In France