Mexico Honeymoon
Vacation
Considering a Mexico Honeymoon Vacation?
Getting married is a huge step in anyone's life and that is why you want the special occasion to be just right. You want every detail to be perfect, right down to the honeymoon. A Mexico Honeymoon Vacation is just the thing every couple needs to celebrate their marriage. Mexico is truly a lover's paradise and offers many hotels to choose from.
I just love these photos by Kyle Simourd (left) at the beach side pool and Mike(right), the incredible Sunrise in Cancun.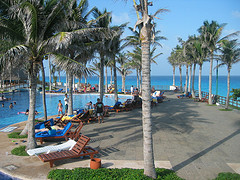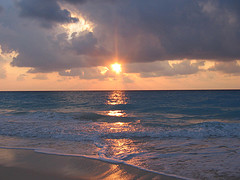 Mexico Honeymoon Vacation...
No matter what your price range is, you can find a great deal on a
Mexico Honeymoon Vacation
at such places as the Palace Resorts.
The Palace Resorts are well known for their all inclusive resorts
for couples in love. Palace Resorts go to great lengths to be sure that every minor detail has been taken care of so you can spend your honeymoon enjoying each other in the most romantic setting possible.
You can choose to spend your days lounging together by one of the swim-up bars or relaxing in your own private in room Jacuzzi. You can enjoy a nice evening looking at the picturesque view from the sky bar. They offer many packages to choose from with services such as your own concierge as well as spa services to pamper you completely.
The Palace resorts have 9 total resorts to choose from and they also allow you to travel between each resort so that you can enjoy each resorts unique amenities. The Palace offers restaurants to choose from with such dining choices as delicious buffets with omelets made to order to robust Italian meals.
You may also want to look into the Riu Resorts that are located throughout Mexico. These resorts also offer all inclusive options to take all your cares and worries out of the honeymoon.
Imagine the exploring, like this photo by R.13, of the Mayan. And the authentic Mexican Entertainment in the photo by Jim Snapper.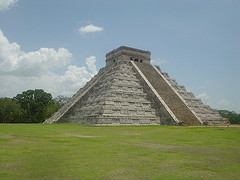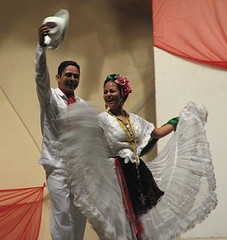 Romantic Vacation Spot
Mexico is beautifully draped across sandy white beaches with the tranquil turquoise waters of the Pacific Ocean. The ClubHotel Riu Jalisco offers 700 rooms to choose from with a pool for just the adults as well as one for families and kids, if you are on a second honeymoon. They have an array of restaurants and dishes to choose from to temp your taste buds with.
Be sure to try some of the native Mexican dishes as well as some of the local cocktails that everyone raves about.
You can also choose to have a room with your own private Jacuzzi as well, making it so that we never even had to leave the room!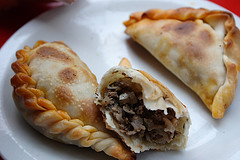 Both of these resorts offer traditional Mexican dishes such as the mouthwatering Beef filled Empanadas, like in the photo by Aokettun, or a delectable rice dish called Arroz Rojo that is made with garlic and red chilies.
You can finish off your meal with a either a cocktail such as a Margarita, see the picture of drinks by Rick, or perhaps you may want to try something like the Champurrado, which is hot chocolate that has been thickened with masa flour and then flavored with aniseeds as well as Piloncillo.
After your meal you can try your hand at some of the many activities located at each resort such as water sports like scuba diving or you may want to go for a romantic horse ride down the beach.

Your Mexico Honeymoon Vacation...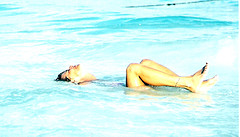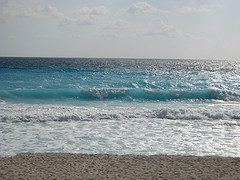 Just feel the warm waters all around you, just like MJC, in the ocean waters on the left, and Mr. Thomas in the photo to the right.
A Mexican Honeymoon Vacation gave us the most romantic and unforgettable retreat that we could ever have imagined. You can look into many different types of resorts or hotels that offer an array of tempting amenities to choose from. No matter which way you choose to go for your honeymoon, you will be sure to have hundreds of wonderful memories to begin your marriage with.


Return from Mexico Honeymoon Vacation
Get Chill'n For Your Honeymoon With Skiing Vacation
Content for new Editable Region goes here