Jamaica Vacation Spot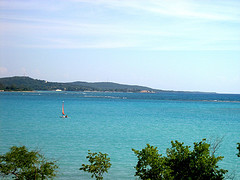 One of the most exciting vacations we ever took was a cruise to a
Jamaica Vacation Spot. Leaving from the Midwest we were able to fly into Miami, Florida the day before just a get a tiny taste of somewhere we had never been, before we headed out to Jamaica.
Our Cruise was through Carnival and although we were going for 4days/3nights it was quite inexpensive. The best part was that we had a chance to enjoy a couple of ports during our cruise, but it was the hours we spent on Ocho Rios that grabbed our attention.
We got to plan a week vacation there on our own!


Our Jamaica Vacation...
It took all of about 3 months for us to plan another vacation to Ocho Rios. I know, but it felt like when we were on the cruise we missed out on so much the area had to offer that we had to hurry up and get back there to see it!
So we booked an "all-inclusive" trip at the Riu Ochos Rios which was absolutely magnificent.
We were lucky enough to go there within the first month of the resort's opening and the scenery was just gorgeous. We had a room on the top floor with a balcony and as we made our way outside it was just a relaxing moment.
Beautiful weather, waves crashing in on the beach, people horseback riding, just an amazing sight to see. We knew this was the beginning of an extravagant vacation.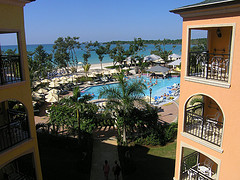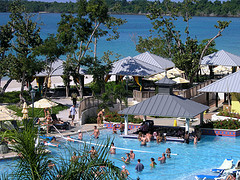 The first few days we didn't go crazy or anything we relaxed on the beach got some really nice tans, checked out all the shops, and even visited the Bob Marley mausoleum - which we weren't aware that he was even buried there.
They had the old shack he grew up in from like 6-13 years old decorated with all sorts of memorabilia which was very cool to experience, and the pictures are even better.
After seeing all of that and then going back to resort listening to the reggae music as the sun said its goodbyes for the night the next day took on a whole new meaning.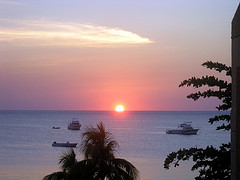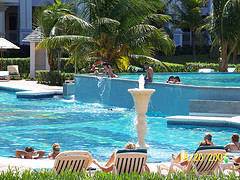 Our Jamaica Vacation Spot...
The following day was our most memorable.
We woke up the next day to go waterfall climbing. Sounds crazy right? We thought so too, but it was the curiosity that was giving us the okay to go.
We took a bus ride where our guide was fantastic and made the trip to Dunn's River Falls entertaining. Once we were there this human chain is formed with our guide as the lead making it a much easier climb then doing it by ourselves.
We were left in awe the higher we got up and the best part had to be that we were able to free fall down into the pool of water from each plateau if we so chose. The pictures from that day are priceless and we would never have changed a thing.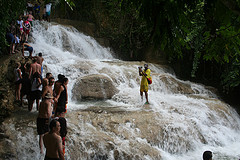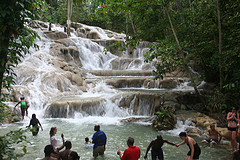 We also had the opportunity to ride these horses through this old sugar cane plantation which was magnificent.
Seriously, if you are ever thinking about taking a vacation we would recommend this over and over again, and have even contemplated purchasing a timeshare there in the near future as we plan to go back at least once a year.
If there is ever a place to go where all the extra curricular activities make you feel as though your a celebrity, Ocho Rios is the best Jamaica Vacation Spot.


Return From Jamaica Vacation Spot To Honeymoon Spots
Photos by gailf548, tyhirah29,
nickolette22.